A Maple Ridge Mountie was killed and two other officers were taken to hospital with serious injuries after an incident in Coquitlam Friday (Sept. 22).
BC RCMP Commanding Officer Dwayne McDonald confirmed the officer killed was Ridge Meadows RCMP Const. Rick O'Brien. He was a seven-year member with the detachment, having joined Sept. 19, 2016.
This was a second career for O'Brien, who was married with children. He was born in Ottawa.
McDonald said that within months of joining Ridge Meadows, O'Brien was involved involved in the rescue of several victims as a result of a home invasion.
"Const. O'Brien led by example. He had a great sense of humour. He was well respected by his peers and he was loved in his community."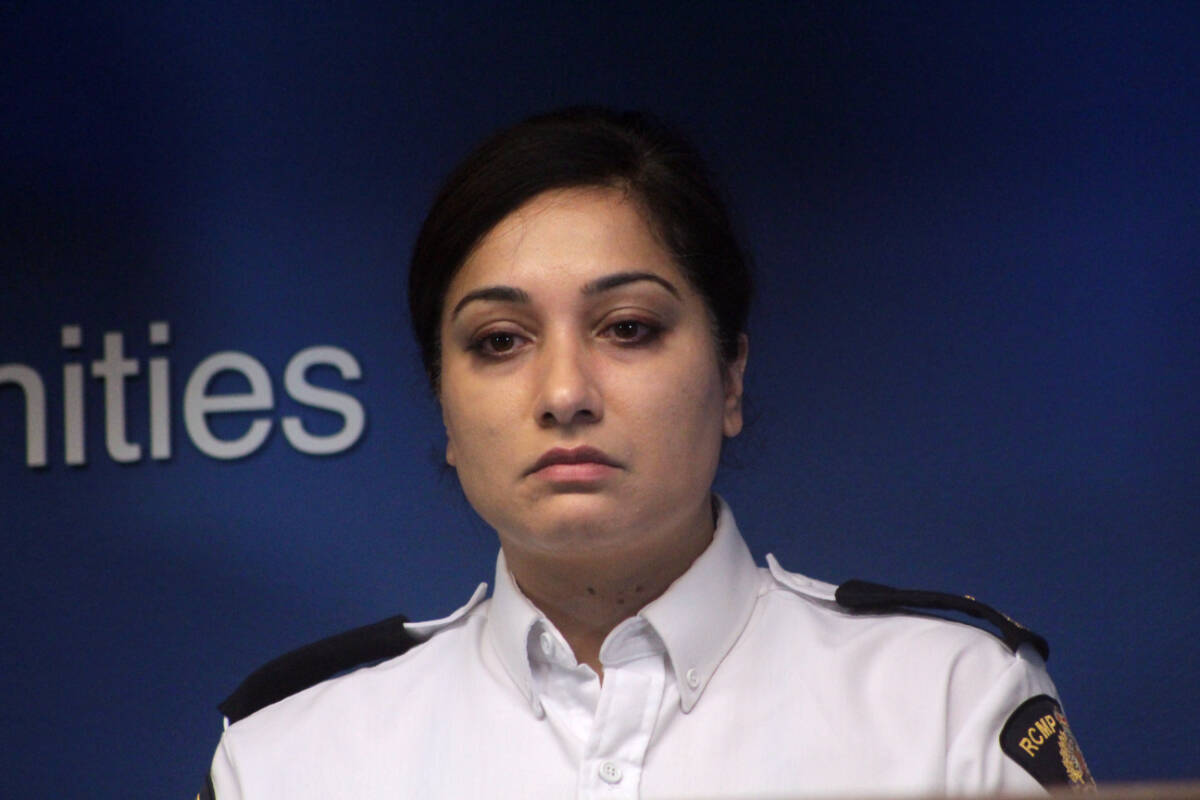 Ridge Meadows RCMP officer-in-charge Wendy Mehat told media it was a terrible day.
"Standing here and speaking about the impact of the on-duty death Const. Rick O'Brien was the most difficult moment I've had in my career."
She said O'Brien's death is felt by his colleague's across the country and my his fellow members at the detachment. He spent his entire RCMP career at Ridge Meadows.
Public Safety Minister Mike Farnworth said O'Brien "made the greatest sacrifice while protecting Coquitlam residents."
"All three officers are shining examples of the extraordinary individuals who chose to take on the challenging mantle of protecting the public."
Mehat speaking about O'Brien's contributions pic.twitter.com/5BG1bG6wV4

— Lauren Collins (@laurenpcollins1) September 23, 2023
O'Brien was one of several officers executing a search warrant at a residence in Coquitlam, near the intersection of Pinetree Way and Glen Drive.
McDonald said he couldn't comment on the "theme" of the search warrant, but it was a long-term investigation.
McDonald confirmed there was an altercation between the officers and a man, which led to multiple officers being injured and the man being shot. McDonald said the suspect, a man in his mid-20s, was known to police.
B.C. Emergency Health Services transported them to hospital, but O'Brien died of his injuries. The other two officers were treated for their injuries and have since been released from hospital.
McDonald said the injured male suspect is still in hospital with non-life-threatening injuries.
Asked why Ridge Meadows RCMP officers were executing a search warrant in Coquitlam, O'Brien said it was an "ongoing investigation that led to the culmination of a search warrant executed at that residence." He added it was a blend of RCMP detachments on scene.
The Integrated Homicide Investigation Team has been deployed and BC RCMP has notified the Independent Investigations Office of British Columbia.
McDonald said it has happened before where there are concurrent homicide and use-of-force investigations. He said the IIO and IHIT have a memorandum of understanding to work together.
Ridge Meadows RCMP officer in charge Wendy Mehat now speaking. You can hear the emotion in her voice pic.twitter.com/WgJknRGrxM

— Lauren Collins (@laurenpcollins1) September 22, 2023
Premier David Eby told reporters at the Union of B.C. Municipalities Friday that Coquitlam RCMP was involved in a "critical incident." Eby said he'd just received a briefing from Public Safety Minister Mike Farnworth and his team.
"At this point we're not in a position to be able to release details, but I can reassure the people of Coquitlam that there's not a further threat to public safety."
He added RCMP "expect to be in a position … to share more details soon."
At the time, Eby wouldn't confirm any details on deaths or injuries.
Coquitlam RCMP posted to social media Friday morning that due to an ongoing police incident Glen Drive is closed between Pinetree Way and High Street. Coquitlam RCMP were asking the public to avoid the area.
Witness Carley Hodges said she saw one officer being taken out of a building on a stretcher while getting chest compressions, and a second officer was bleeding from the leg with a tourniquet above it.
Hodges says she saw a man in handcuffs and described a frantic scene, with "tons of police cars, ambulances, and fire trucks coming in."
Coquitlam Mayor Richard Stewart confirmed that officers had been injured but said he can't share details.
Stewart said there were moments of chaos in the city's downtown core this morning.
Black Press Media has reached out to Coquitlam RCMP and B.C. Emergency Health Services for further information.
– With files from the Canadian Press
🚨Road Closure🚨

Due to an ongoing police incident Glen Drive has been closed between Pinetree Way to High Street.

Please avoid the area pic.twitter.com/3q4Kpp69mC

— Coquitlam RCMP (@cqrcmp) September 22, 2023