The skunk is obviously not afraid of the cougar.
On Joanne Siderius' trail camera video, shot at night, we see a chance encounter between a skunk and a cougar, in which the skunk is definitely the aggressor and the cougar quickly decides it has somewhere else to be.
Siderius says seeing a skunk facing down a cougar delighted her.
"I have a greater respect and sneaking admiration for skunks now."
As the head naturalist at the nature centre in Kokanee Creek Provincial Park, Siderius has recorded and posted more than 300 trail camera videos of dozens of species of animals and birds, all in their daily routines and travels, day and night, in all seasons.
In a video shot near Six Mile, we hear the call of a cougar, in a close-up daytime shot.
"That was a very memorable moment hearing that for the first time," Siderius says.
Recorded on about two dozen cameras attached to trees in the park and near her home at Six Mile, the videos remind us that there is more to the forest than meets the human eye. Seeing this other layer of life makes people more attentive when they walk through the park, she says.
"Now they know there's something more here, there's something else."
That includes deer, swans, coyotes, pine martens, bobcats, mink, elk, moose, flying squirrels, raccoons, wolverines, cougars, wolves, snowshoe hares, skunks, otters, beavers, deer mice, shrews, squirrels, black bears, grizzly bears, ravens, herons and more.
The videos can be found at https://vimeo.com/kokaneecreeknaturecentre.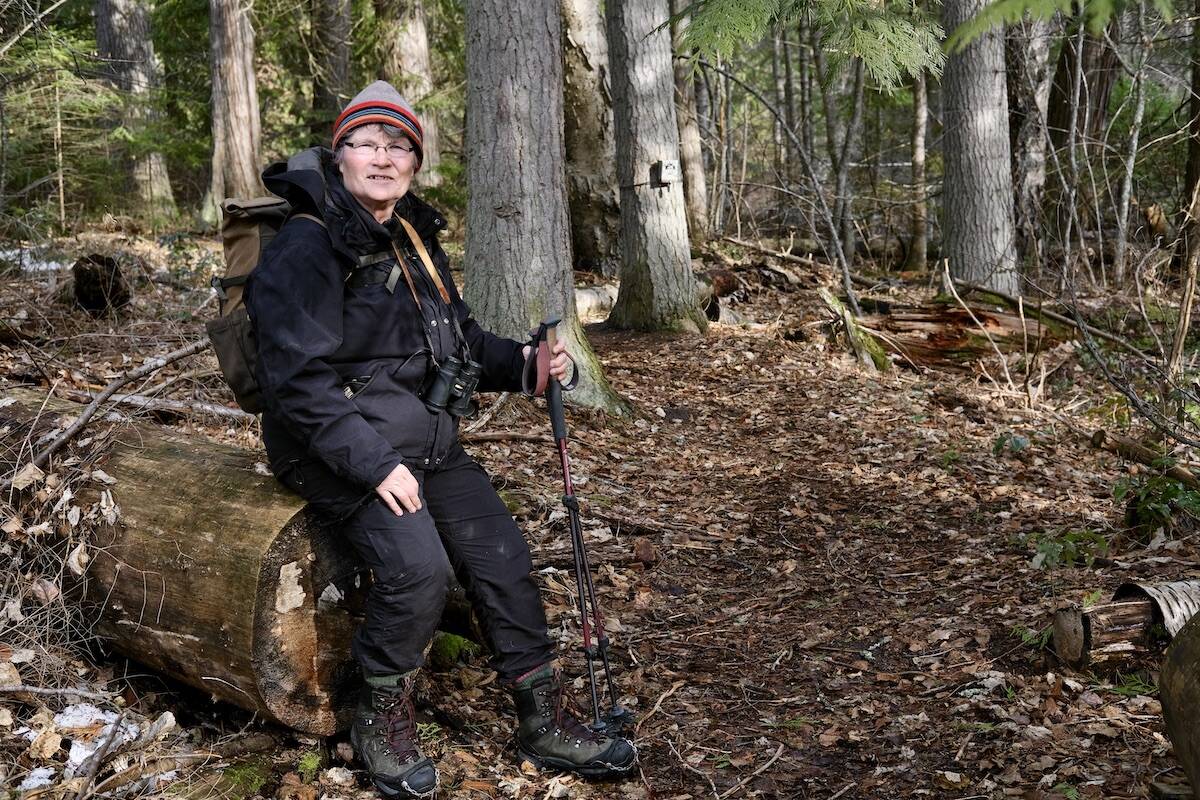 Siderius, who has a PhD in wildlife biology and is a retired registered professional biologist, designs and runs the extensive education programs at the park. It's her dream job, she says.
"I get to go outside and ask 'why' questions about birds and animals, see what's out here, learn about them, and share that with other people."
Siderius says people started watching the videos in earnest during the pandemic, when there was a spike in rave reviews on Facebook and on the website.
Take That You Scaredy Cat! from Kokanee Creek Nature Centre on Vimeo.
Some schools show the videos over lunch hour, and families sit down at home and watch them together. She says many of the kids coming to park programs are already well aware of the videos.
"School classes come out to the park and I meet them and the teacher says, 'This is Joanne who does the videos,' and the kids are like, 'Oh, yeah!'"
This is gratifying to Siderius because her greatest desire is for people to love the natural world, in the face of the news of global wildlife extinctions and ecosystem loss. She says she is grieving for nature, and she transforms that grief into helping people love the world.
"I need to let people know it's still a wonderful world. It's a beautiful world. Especially children, they need to grow up in love with their neighbourhood and the animals that are their neighbours, and the plants. And I get to be part of that."
Another of Siderius' favourite videos shows a wolverine on a brief run through a snowy forest. The mere fact that she caught one on video is surprising, Siderius says, because wolverines are so rare and reclusive.
She loves watching bear cubs, on several of the videos, playing and having fun. She laughs when she talks about the the antics of otters. And the beavers: "It's not that they're dull, they are just so earnest. They're always building."
There are two things that interfere with Siderius' enjoyment of her dream job. One is an inexplicable crime, and the other is a matter of public awareness.
Sometimes people steal the trail cameras, even though they are securely attached. She is puzzled and offended by this.
And despite the signs posted in the park, people often let their dogs off leash, making life more stressful for wild animals and birds. Siderius says asking people to leash their dogs is part of her daily routine at the park.
In January, Siderius was recognized for her work by Nelson City Council, which gave her one of its annual Sustainability Leadership Awards.
In 2020, Siderius won the Suzy Hamilton Legacy Award, presented annually to a female environmental activist in the West Kootenay. Hamilton, a notable West Kootenay environmentalist who died in 2016, was responsible for a significant revitalization of the Kokanee Creek Nature Centre and hired Siderius for her job there.
Meanwhile, Siderius continues talking with park visitors and posting videos, conveying her love of wild nature, one day at a time.
"We have today. And this is a wonderful world today."
---

bill.metcalfe@nelsonstar.com
Like us on Facebook and follow us on Twitter