Black balloons flew in front of Nelson City Hall on April 14 to mark the sixth anniversary of B.C.'s declaration of the opioid crisis as a public health emergency.
Since that declaration on April 14, 2016, close to 1,500 people in the Interior Health region and more than 9,400 people in the province and have died of toxic drug poisoning. Black balloons have become a symbol of such deaths.
The Nelson gathering was organized by REDUN, the Rural Empowered Drug Users Network.
Holly Trider, one of the organizers, told the Nelson Star that the group's main demand of the government is safe drug supply and decriminalization of drugs.
She pointed out a sign posted on the courthouse fence at the event that read: "Do you drink alcohol? That's safe supply."
Trider said she thinks all drugs should be regulated, referring to the example of fentanyl. Medical grade fentanyl exists, she says, and it is not as dangerous for people who have built up a tolerance for it.
"The thing with the illicit drug supply is that you never know how much is going to be in it. And if you're using other drugs, fentanyl may be in it by accident. So the government should decriminalize it, and people with lived experience should be at the table when these decisions are made."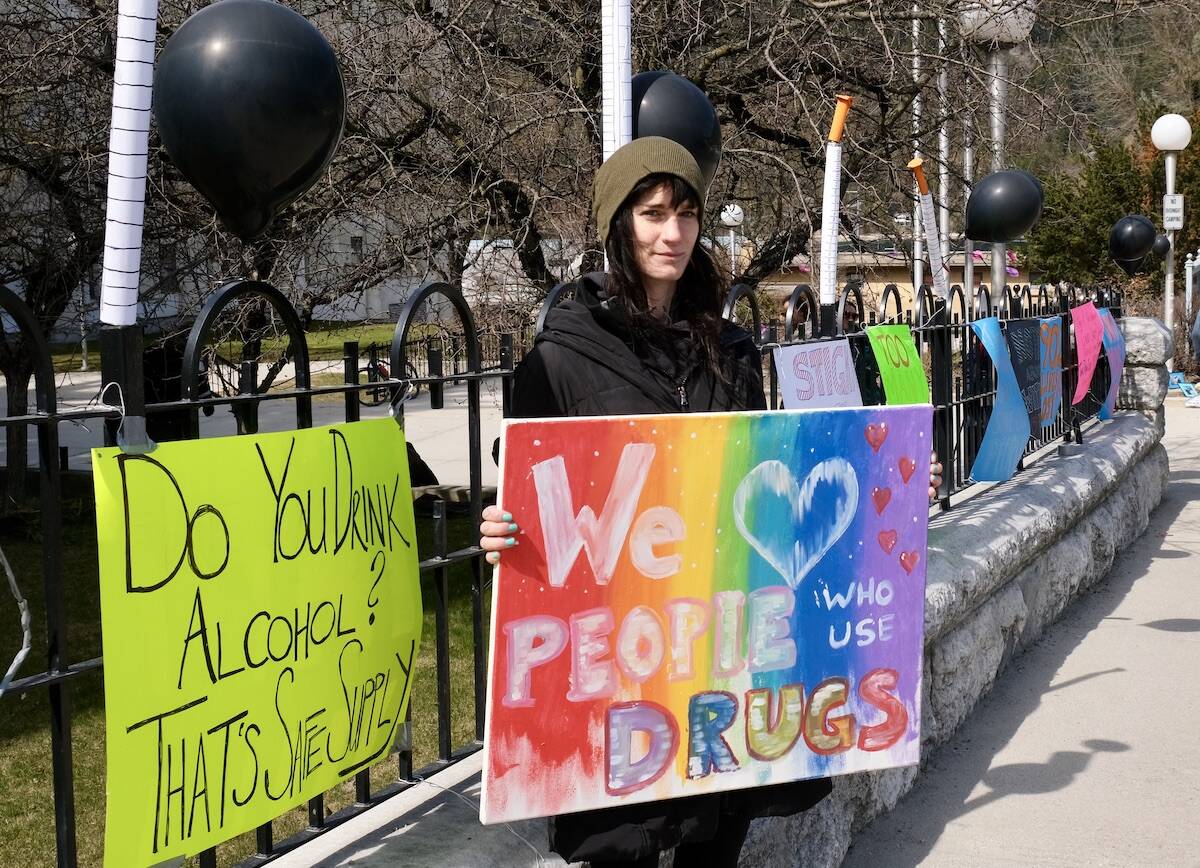 Trider works as a peer health navigator at ANKORS in Nelson.
"I support people (people who use drugs) with their healthcare needs," she says. "Navigating the healthcare system, going to appointments with people. The health care system, pretty much all systems, treat people who use drugs (badly), and they don't receive the same care as other people. And so I just go there and advocate and make sure that they're receiving the health care that they deserve."
Several people at the event said that they have had many friends die as a result of drug poisoning.
"There were seven people in Nelson alone last year that died of a toxic drug poisoning," said Tiffany Teal.
"We want to bring notice: safe supply and decriminalization," she said. "And end stigma, please, against people who use drugs. This affects everybody. It affects every walk of life."
Teal is a peer co-ordinator for REDUN.
"I facilitate a meeting once a week, where peers can come and get warm, have something to eat, and stand in solidarity together."
In March, the BC Coroner's Service reported on their examination of the circumstances around thousands of drug poisoning deaths between 2017 and 2021 and concluded that the main cause of death was the increasingly toxic and unpredictable supply in the illegal market.
Among the report's recommendations was a safer supply of drugs and an evidence-based model of care for substance users.
"We know that everyone who dies because of drug toxicity leaves behind family, friends and communities who grieve their loss," B.C.'s chief coroner Lisa Lapointe said when the report was released.
With files from Ashley Wadhwani.
---

bill.metcalfe@nelsonstar.com
Like us on Facebook and follow us on Twitter