Nelson's three street outreach workers sometimes get calls or visits from the mothers of their clients.
"There's times where we just sit there and cry with the parents," says outreach worker Lyann Hunter. "They are coming to us for comfort, and all you can do is just hold them and cry with them."
Their child may have died of an overdose, or may be one of the dozens of others stranded in addiction and homelessness on Nelson's streets.
"We had a parent from out of town, and her son was here, using. She would call us all the time, daily, asking us to check in and to have eyes on him. Even to this day she still talks to us, but he's passed away."
Hunter has been an outreach worker on the streets of Nelson for three years, and for five years in Trail before that. Her two colleagues, Ryall Giuliano and Jeremy Kelly, have been on the job in Nelson for eight years, since the Nelson Community Services Society started the program in 2016.
Nelson Street Outreach is set up to serve the health and safety needs of people living on the city's streets and to support downtown businesses and the public in understanding and interacting with that population.
The mothers tell the outreach workers about their babies who were skilled, caring, intelligent and fun children. They ask the workers to pass on loving messages.
"We also deal with a lot of angry parents who are looking for something or someone to blame," says Hunter, "about procedure, policy, government issues … So we do a lot of crisis de-escalation with the parents. It's absolutely heartbreaking really, because my son is the same age as a lot of the folks around here who are dying."
Trust
The outreach workers rely on strong and trusting relationships they have forged with their approximately 250 clients.
"Our rapport is our power," says Kelly. "That's all it is. We're just people with backpacks on, but because we've taken the time to get to know people there's usually an amount of understanding. If we get a call from a business about someone sleeping or using drugs in an alley near their shop, we're usually able to just go talk to that person … and they'll be like, 'OK, cool,' and they'll move on."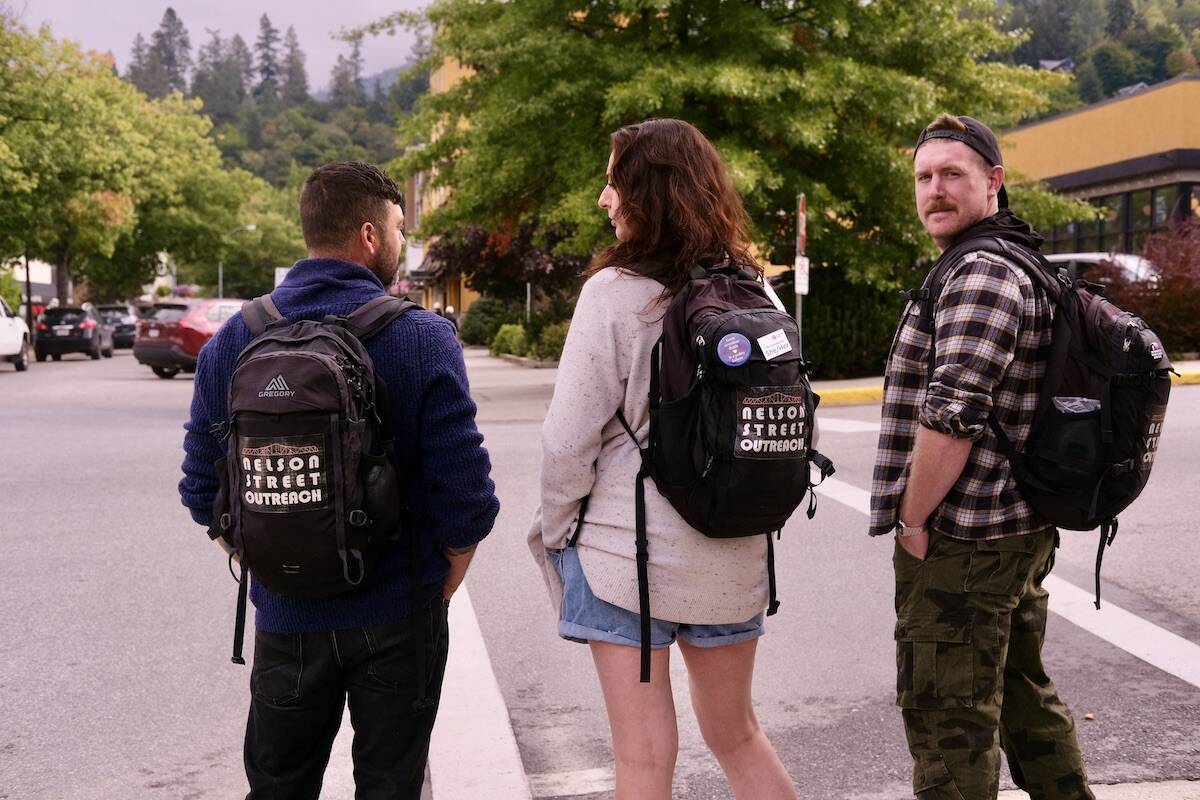 Hunter says she sometimes tells such people, "'Either you're going to work with me, or they (the business) tell us they are going to call the police.' And once you say police, they're OK. We're their preferred choice."
Giuliano says he sometimes uses a diversionary approach, inviting the person to come with him to another location.
"I just say like, 'Hey, do you want to come with me and do this thing? Cool. Let's go.'"
The workers spend most of their days on the street. They get an average of 60 phone calls per day, leading to an average of 40 interactions, most of them less than five minutes in duration. The calls might be from people living on the street or from social service agencies, businesses, or individuals.
They might be called to a mental health crisis at a coffee shop, or to help with advocacy at the mental health office.
A resident at the Stepping Stones shelter might need a ride to a medical appointment, or a passerby might call about someone unconscious on the sidewalk in front of a business. A client might need help filling out a housing application, reporting an assault to the police, de-escalating a conflict, or talking to a pharmacist about medication. Or there's been a drug poisoning.
One of the gradual changes since 2016 has been the types of people accessing outreach services, Giuliano says. There are now more seniors and more youth, and there are more people living outside.
Unstructured lives
Giuliano says homeless often means that people lead unstructured lives, and homelessness is dysregulating. It is not safe for them to fall asleep, especially at night, because they might be robbed while they sleep. Or they might be woken up and told to move along.
During the course of a night they might catch a number of 15-minute intervals of sleep, sometimes in different locations.
"Once you start adding substances to that," says Giuliano, "either stimulants or opiates, that further dysregulates natural rhythms. It can be safer to stay awake with crystal meth at night in order to protect yourself and stay alert."
Fulfilling basic needs — food, shelter, sleep, perhaps substances — while homeless can be a full-time job because of the need to start again from scratch every morning.
The situation can be different and more complicated for women. There are more homeless women than it might appear, but it's hidden. Many women trade sex for a place to stay.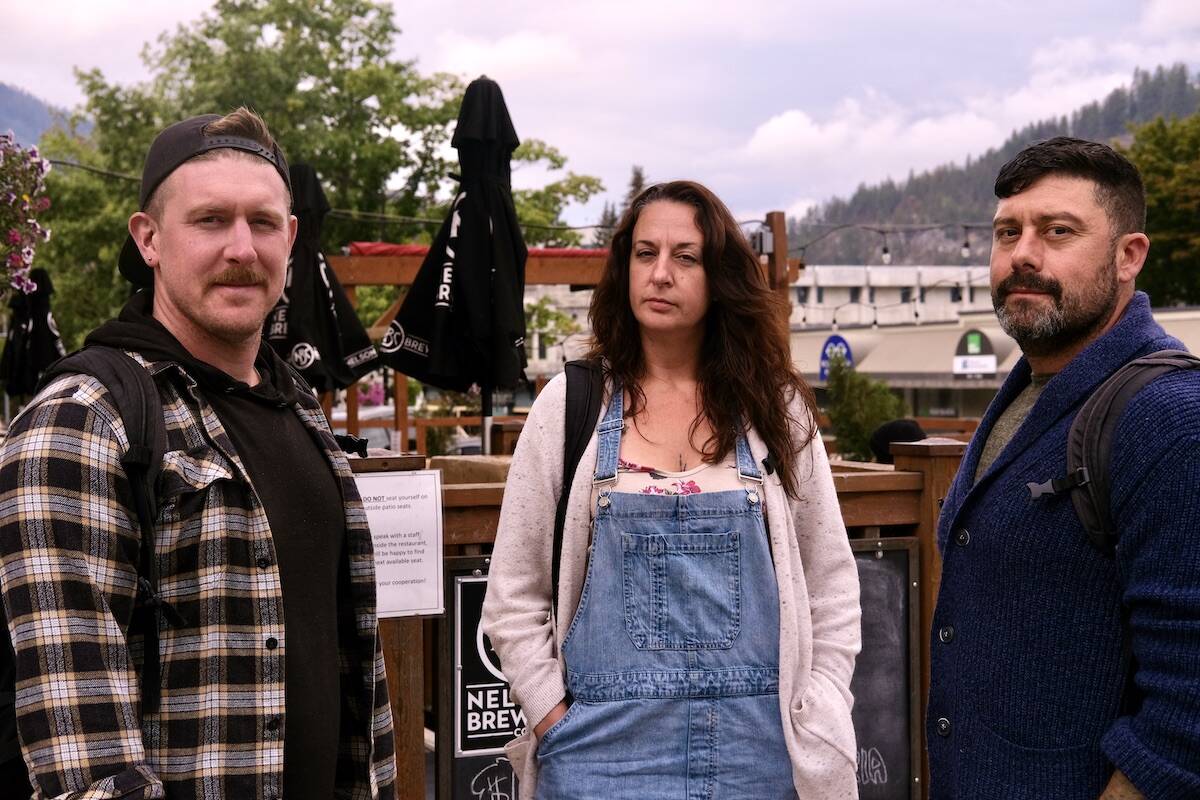 Been there
Hunter, Giuliano and Kelly can stick with this work and achieve rapport with their clients because, each in their own way, they've been there.
"I have a very traumatic past, and I feel like I've had my own addictions, my own homelessness, my own sexual trauma," says Hunter.
"I am brutally honest with them, I know where they're coming from, especially with the women, and I share that with them."
She trained as a social worker but discovered she didn't want the usual career path.
"These are my people and I love being outside. This is my passion. No, I would never do anything different."
Giuliano says he has been down a similar road.
"There's an understanding around what addiction means, there's an understanding around what it feels like to have nowhere to go when it's freezing cold or you are very hungry. Yeah, I've eaten out of garbage cans."
Kelly says he has experienced homelessness and overcome addictions, and he opened the job interview at Community Services by telling the interviewers, "This is my job." He then convinced them by telling them about his first-hand experiences.
First responders
Sometimes, because they are already on the street, the outreach workers will arrive at an overdose before the police, paramedics or fire department.
"We roll them over, we start rescue breathing with our pocket masks, then we might administer naloxone and monitor the situation, continue rescue breathing, administer another round of naloxone," Kelly says. Then they will sometimes travel with the ambulance. They know all the emergency responders on a first-name basis.
Sometimes people will call them if they are not sure if a person in trouble needs an ambulance or the police.
"My first question," says Guilano, "is always, 'Are they responsive?' If they are not, we advise them to call 911 now, and then we head there as well."
The street workers are not mental health professionals but have training and expertise in crisis intervention, first aid, mental health first aid, and addictions. They act as a conduit between their clients and mental health services.
"One of the biggest things is that we know people. So certain behaviors that might freak people out in the public, we're kind of like, oh, yeah, that's so-and-so and he tends to (do this strange thing) sometimes."
Almost all of their clients come from the local area, says Giuliano. He sees Nelson, Castlegar and Trail as local — all one community.
"People move because maybe they've used up their days at the shelter here, or maybe they know of a person who helps them out in a different town," says Giuliano. "People are travelling to get their needs met. Why wouldn't a person travel from Balfour to Nelson to access a food bank? Places with higher population densities tend to have more services."
It's getting worse
In the first year of the street outreach program, Kelly says, they had one overdose call, and the person survived. In one day about four months ago, there were seven before noon.
In the early days of the program, if someone overdosed it was a major event. Now, Kelly says, they talk to several people every day who tell them, "I overdosed again."
"Last year was the worst for overdose deaths on record," he says. "The overdose crisis is worsening. The housing crisis is worse. Everything's worse."
Eight years ago when Kelly started, if the workload had had today's scale and complexity, "I probably wouldn't have been able to do it." But he has adapted to the current level of crisis and loss.
Kelly says it more than just a drug crisis or a housing crisis. It's a financial crisis made worse by inflation. "Our unhoused population is the first to feel that."
The three workers have many ideas on how the systems of regulations, services, and housing could change and what their clients need in the long term.
But in the short term, says Kelly, they need blankets and coats. It's getting cold outside.
bill.metcalfe@nelsonstar.com
Sign up for the Nelson Star's newsletter here to have local stories delivered straight to your inbox every morning.