Becca Walker returned home to friends she barely recognized.
The Krestova native moved back to the West Kootenay last year after a decade in Vancouver. In her youth, Walker remembers recreational drug use being an activity that no one thought much of because there was little danger associated with it.
Now a student in the Bachelor of Social Work program at the Nicola Valley Institute of Technology, Walker came back last year for a practicum and found her friends' drug use had turned to addiction. Last month one of them died because of the toxic drug supply.
"It's become their whole existence. It's all that they know and I just don't think a lot of people understand the pathways into homelessness and addiction and how it can happen to anybody."
Walker was among local residents demonstrating outside Nelson City Hall of Friday to mark the seventh anniversary of the provincial government declaring a toxic drug crisis. Over 11,000 British Columbians have died since fentanyl became a common additive to the illicit drug supply.
The crisis is also getting worse. In the Nelson local health area a record 11 people died in 2022, according to the BC Coroners Service, and nearly 2,300 lives were lost provincially.
Quin Batcheller joined the group outside city hall to support people who use drugs after losing friends to the toxic supply.
"I'm here because I was a drug user for a long time. I am healing from that now, and I just want to show my support for the community and for my friends and my family who are struggling."
Meagan Zunti, who works for the Kootenay Boundary Supported Recovery Program, described what she calls a rising collective grief among the people she knows after nearly a decade of drug deaths.
She said she is disappointed by the government's response to the crisis compared to how quickly it reacted to the COVID-19 pandemic.
"It's just getting heavier and heavier. It's hard for people to stay hopeful when there's policy recommendations, we know what we could do, and there's no action being taken."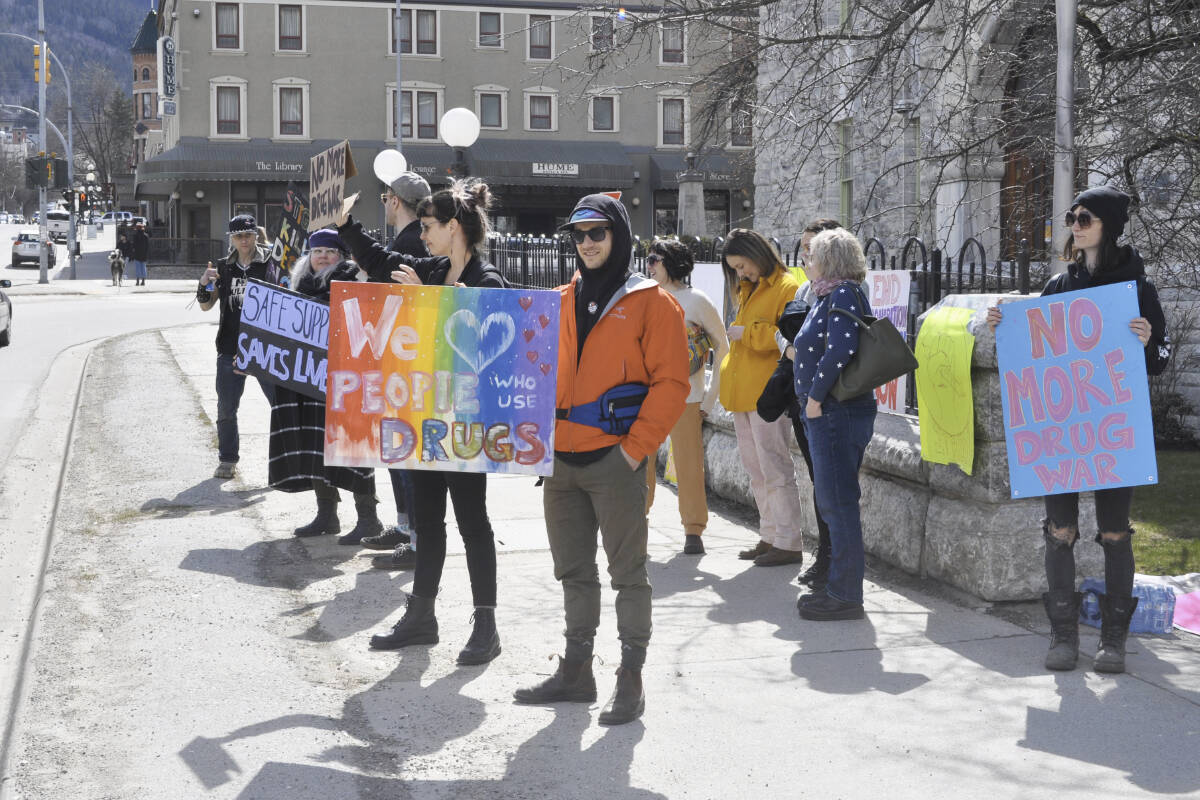 What should be done remains a point of contention between harm-reduction advocates, people who use drugs and the provincial government.
In February, Finance Minister Katrine Conroy announced the provincial budget would include $199 million in new funding spent this year on mental health, addictions and treatment services. The total funding will add up to $867 million over three years.
On Jan. 31, B.C. also began a three-year program that decriminalizes possession of up to 2.5 grams of illicit opioids, methamphetamine, MDMA, crack and powder cocaine.
But the government's safe supply program, which relies on opioid agonist therapy drugs like methadone, has been criticized as ineffective. Advocates argue lab-tested drugs, such as the small amounts of heroin, cocaine and meth handed out in Nelson last year by Kootenay Insurrection for Safe Supply, need to be what is considered a true safe supply.
Premier David Eby has also suggested mandatory treatment for people who experience multiple drug poisonings in a day, although there was no mention of it in a joint statement Eby issued Friday with Mental Health and Addictions Minister Jennifer Whiteside and provincial health officer Dr. Bonnie Henry to mark the anniversary.
It's a misconception that recovery can be a quick fix, said Zunti, who opposes involuntary treatment.
"People are going to leave those systems and do what they want, and they have the agency to do that. Everyone has the right to live in risk. What they also have the right to is housing, and a guaranteed minimum universal income. Those are the places I think they need to start and I think those are the places that people who use drugs are saying we need to start."
Walker says the government needs to focus on wraparound services for people who use drugs. Overcoming addiction can't be done if people are also concerned with staying fed and finding safe shelter.
"That's why services are really important for people to have dignity and support, where they can start to rebuild their lives. But they need help and they need to know that people give a shit about them. Because right now, that's not the case. Our systems are failing people. That's why they're dying."
Zunti said it's also not enough to graduate people who use drugs from recovery programs. She wants to see more supportive housing built in the region to keep people from returning to addictions.
The North Shore Inn, which was purchased by BC Housing in March 2022 and is managed by Nelson CARES, provides 30 homes for people experiencing or at-risk of homelessness. The site includes 24-7 staff support, a meal program, life skills training and employment assistance.
To end the crisis, Zunti said more supportive housing has to be considered part of the solution.
"We've seen people's recovery that they've built up with us completely drop off because they go to housing that's unsafe, inadequate, full of stigma, not near a bus route, or their cheques don't even cover the rent. So harm reduction-based supported housing, so there's housing along the spectrum of where people are at."
@tyler_harper | tyler.harper@nelsonstar.com
Like us on Facebook and follow us on Twitter.