Flashes of brilliance and stout defence.
That's how the Nelson Leafs introduced themselves in their season opener, and it made for a good first impression.
"It doesn't really get much better than that," said Seamus Boyd, who scored twice as the Leafs beat the Revelstoke Grizzlies 4-2 at home on Friday.
Ty Nykyforuk and JD Hemming had goals for Nelson, and Jackson McLeod made his Leafs regular-season debut in net with 37 saves.
Luke Aston and Nicholas Buckley scored for Revelstoke, with starting goaltender Jozef Kuchaslo stopping 21 shots.
The Leafs, playing their first Junior A game, brought back nine players from last season including Boyd. Head coach Briar McNaney and general manager Lance Morey opted to revamp a team knocked out in the first round of the post-season, and the work appears to have paid off.
"Cloud nine right now," said McNaney. "We're pretty happy in the room."
There is plenty of room for improvement in the offence, which relied on singular moments of skill but never seemed to overwhelm the Grizzlies who mostly dominated possession.
The back end, however, looks poised to give opposing teams headaches. McNaney said he thought the defensive and penalty kill units outworked the visitors.
"We kept them to the perimeter quite a bit. They didn't have that many grade-A scoring chances. That being said, Jackson McLeod was great when he did have those opportunities against him."
McLeod lived up to his billing as the Leafs' first Junior A acquisition in the off-season. He moved to Nelson from Winnipeg and in his debut held the Grizzlies scoreless for the first 31 shots he faced.
"We showed really well for our first game. I thought we looked like quite a team already. I'm just excited for the season."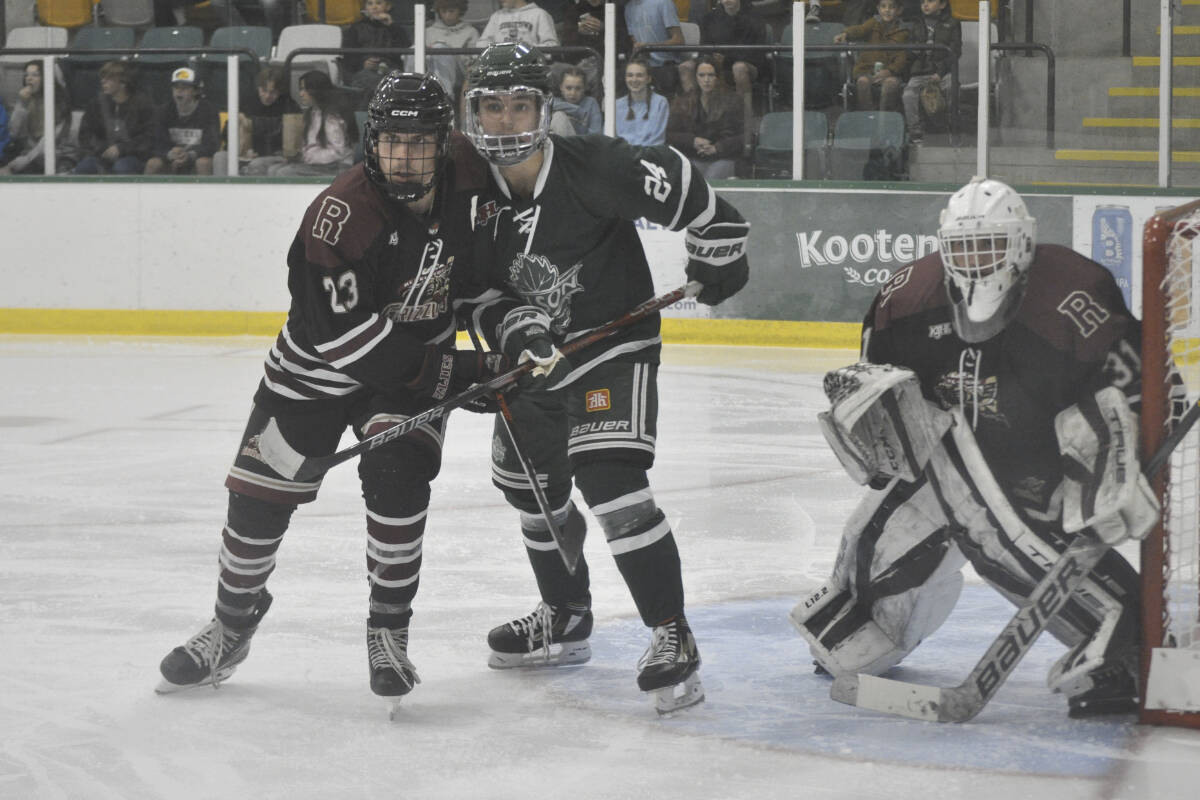 The Leafs' first goal of the season, less than two minutes into the game on their first shot, was a beauty. Nykyforuk picked up the puck in his own zone, skated the length of the ice, cut to the middle and scored on a slick backhand.
Nelson's offence ran into Revelstoke's defence and couldn't record another shot until 9:36 — when the Leafs scored again. Boyd profited from good offensive pressure by skating into the slot and firing one over Kuchaslo's shoulder top corner.
But the Leafs were lucky to finish the period with a lead. They gave up two penalties and were outshot 12-5.
Both teams opened the second period playing 4-on-4, and that gave the Leafs an opportunity to increase their lead. Hemming scored for the Leafs just 26 seconds into the frame by completing a 2-on-1 rush.
The period was surely a frustrating experience for Revelstoke. The visitors controlled play but couldn't solve McLeod even during a double minor to Nelson rookie Xaiden Bignell.
Instead of scoring, Jaylen Forsyth took a 10-minute misconduct for head contact, ending 20 minutes of futility for the Grizzlies.
It was Nelson again three minutes into the third. Aidan Turner's shot rebounded to Boyd alone in the slot where he sniped the top corner to put Nelson up 4-0.
Boyd joked after the game that the scouting report may already be out about his love for shots in the slot. "We don't want that getting out there to goalies that's my spot."
Revelstoke finally beat McLeod on a power play after Boyd took a charging penalty. Aston received a pass for a wide open look at the net to finally get the Grizzlies on the scoreboard.
A scrum ensued shortly after with Boyd at the centre and the game bogged down into penalties.
The Leafs were on a power play when the puck bounced past Kuchaslo, but it was immediately waved off with Bignell taking a cross-checking a penalty. That was cost Nelson twice over with Buckley scoring for Revelstoke on the ensuing power play.
Leaflets: The Leafs returning veterans are F Seamus Boyd, F Crae Dawson, F Leighton Partington, F Kieran Christianson, D Carsyn Crawford, D Tyler Seminoff, D Dawson Davis, F Drake Proctor and D Zach Karran. Boyd and Proctor are the only Nelson natives on the roster. … Nelson has not named its captains yet. McNaney said they are wait for a bit longer before that decision is made. … The new Junior A rules provided for an extra official on the ice. KIJHL games now have two referees and two linesman, one more ref than games had under Junior B rules. … The Leafs next visit Fernie on Sept. 29 and Kimberley on Sept. 30. They return home Oct. 6 against Beaver Valley.
@tyler_harper | tyler.harper@nelsonstar.com
Sign up for the Nelson Star's newsletter here to have local stories delivered straight to your inbox every morning.