The main threats to Nelson's water sources, according to a new report, are wildfire, flooding and drought.
But the watersheds that provide Nelson's drinking water are outside the city and are not owned or controlled by it.
At a May 11 council meeting, Councillor Jesse Woodward floated the idea of expanding the city boundaries.
"Boundary expansion would give us more control," he said. "Are we relying too much on the good graces of other organizations, or do we need to be more aggressive about securing our water source?"
The landscape from which Nelson's water flows – the drainages of Five Mile, Anderson and Selous Creeks – are controlled, in way or another, by BC Parks (West Arm Provincial Park), the forests ministry, a number of private landowners, two timber companies, the Regional District of Central Kootenay, Interior Health, and global climate change.
Interior Health's involvement comes from its regulatory role in issuing an operating permit to use the water after determining it is safe to drink. As a condition of the permit, Interior Health requires the city to produce a water source protection plan.
The new report, entitled Five Mile Creek, Anderson Creek and Selous Creek Source Protection Plan was released in January and adopted by city council on May 11.
At that meeting, Woodwards' comments about boundary expansion hung in the air but were not pursued further.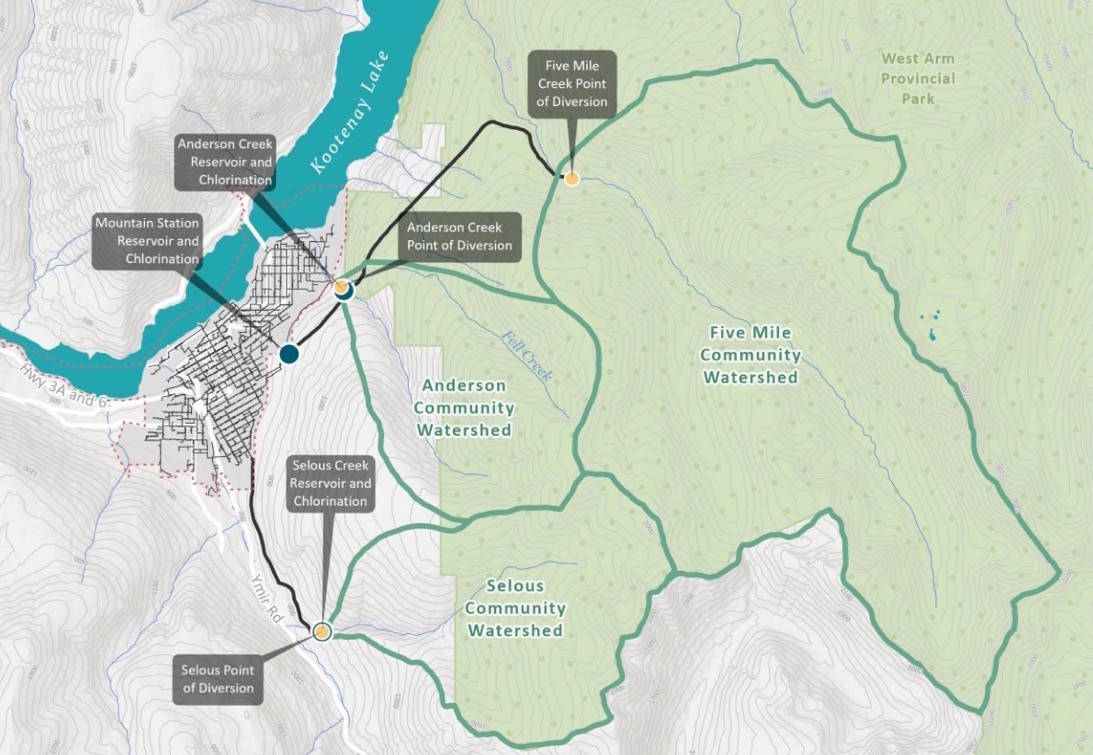 Climate projections for Nelson
The protection plan contains a detailed analysis of climate change projections for the Nelson area, all of which will affect Nelson's water supply:
• Higher summer and winter temperatures
• Precipitation decrease in the summer and increase in the winter, for a net increase
• Declining snowpacks due to more rain, less snow
• Increased snowline elevation
• Increased intensity and frequency of extreme rainfall events
What is the dollar value of nature?
The report prompted Councillor Keith Page to state that municipalities should place a dollar value on natural assets such as forests and watercourses that do not traditionally appear on its balance sheet. Built infrastructure typically has a monetary value assigned to it, but nature does not.
"This (is something we should) incorporate into our asset management planning, and try and find comparables to other infrastructure value that we keep track of," said Page.
"We are not a city without this water source," he said.
Public works director Colin Innes said he does not have the background or experience to place a value on natural assets but suggested that there are people who do.
"I can look at pipes in the ground, or concrete, and assign a value to that, but I have never done that with a creek," Innes said.
Councillor Rik Logtenberg said that insurance companies are starting to respond to the risks associated with climate change, and that valuation of natural assets will become standard.
"There is a strong indication from the insurance industry we will have to get on this," he said.
A long-term view
The purpose of the protection plan, in addition to the Interior Health requirement, is also to help the city identify risks and plan for the future.
The report was written with contributions from a technical committee consisting of representatives from the city, the ministries of environment and forestry, and the RDCK, along with input from Anderson Creek Timber Ltd. (which owns a piece of forest land near West Arm Park), Kalesnikoff Lumber Ltd. (which has a timber licence on the slopes above Nelson), and the Nelson Cycling Club (which has extensive mountain bike trails in the three drainages).
Logtenberg asked why there was not an ecologist on the technical committee, "someone with a long-term view, with an integrated, holistic 30-year view."
Innes responded that he thought the presence of the forests ministry would cover that, and city manager Kevin Cormack said additional people could be added to the ongoing committee if council wishes.
Dependent on the good will of others
Even though the city has been carrying out an ambitious plan over the past few years to improve its water sources and flow and to reduce leakage in its pipes, this does not guarantee that the other players listed above will have the same priorities.
"We are dependent on the good will of the various players," said Mayor John Dooley.
Innes said one purpose of engaging with the group was to make sure its members are aware of the importance of water sources to the city.
"We want to be considered when decisions are being made about logging and fire mitigation, that the city remains in the forefront to other decision makers," Innes said.
Councillor Nicole Charlwood said there is frequent mention of forest degradation in the report but not in its recommendations, with no mention of forest rehabilitation, and she flagged that as something to be added.
The report's recommendations
Priority recommendations in the report include the monitoring of water quality and quantity by installing water level sensors, flow meters, turbidity meters and data loggers at various locations on Anderson, Selous, and Five Mile Creeks.
There is also a focus on reducing landslide and geohazard risks with improved slope stability and terrain assessments of all pipeline routes, as well as replacing and re-aligning the Five Mile Creek pipe.
In the area of wildfire mitigation, the report recommends doing wildfire fuel mitigation by hand to reduce the effects of heavy machinery, limiting road construction, involving hydrologists and geomorphologists in planning wildfire fuel treatments, and obtaining the annual findings of forest health generated by BC Parks.
Many of the priority recommendations in the report restate goals that are already underway or planned in the city's 2017 Water Master Plan, its 2021 climate change plan Nelson Next, the West Arm Park Fire Management Plan, and the 2015 City of Nelson Wildfire Protection Plan.
Those include continuing to find new water sources, upgrade the existing ones, using Kootenay Lake as an emergency source, metering the water usage of non-residential users for research purposes and to reduce waste, and continuing to pursue wildfire mitigation work within and outside the city.
---

bill.metcalfe@nelsonstar.com
Like us on Facebook and follow us on Twitter